note: originally posted on my MySpace blog.

2 Years ago on Christmas, when my brothers Noah and Isaiah, and I, went to visit our Dad, Step mother Deela, and 3 siblings- Deela bought us all sweaters at salvation army and had us go to Wal Mart for a family picture: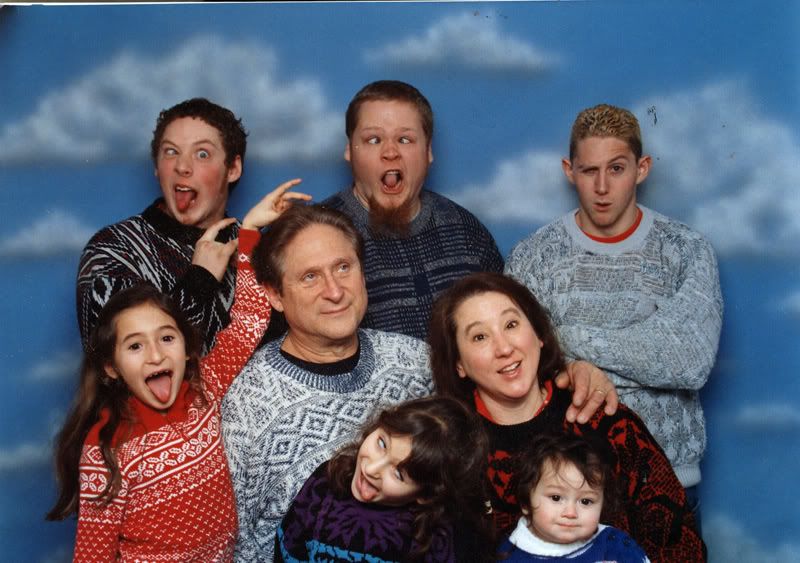 This picture has been a favorite of mine ever since. It's a great depiciton of us, and the kind of joy we experience the rare times we get to all be together. It also shows how often we practice odd facial expressions in front of mirrors.
With my computer dead I was at a stand still with work. I had a couple days before we were to head off to Moses Lake to visit the family, and I decided at the last minute to try to do some walnut ink renderings as Christmas gifts to my family.
For Dad and Deela, I did this walnut ink rendition of the above photo:
I tried for some more traditional portrait style paintings for each of my young siblings- the first here is Megan. I actually drew two small sketches, a small inked draft, 2 large detailed pencil drafts, one fully finished ink draft, and then a total redo of the final pencil and ink drafts- which is the piece I finallty settled on with Megan. She is really hard to capture, but I'm at least happy with this one.
I had a photo of my little brother Malachai which I loved, so I tried to capture it in this painting. He's playing with this toy monkey that I got him last year for Christmas. I feel I didn't capture his likeness very well, but it wasn't so bad I redid it (though I may have if I'd had the time).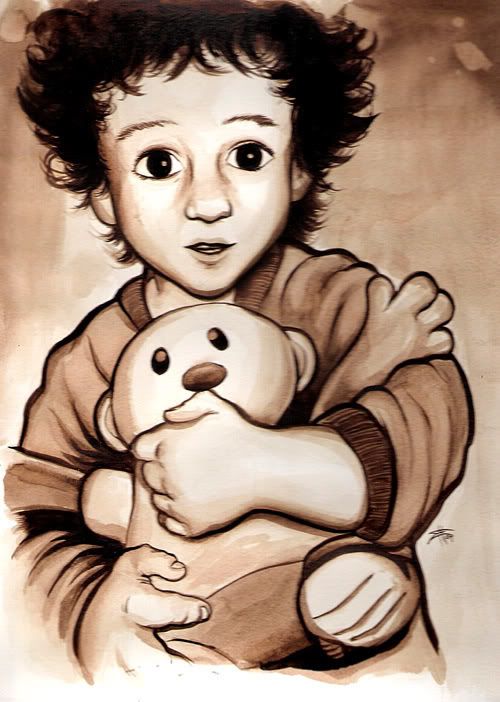 This is Kaitlyn- I didn't have a good photo to go straight off of with her, so I had to use a few photos and sort of create a pose. Of the three I feel this one bares the closest resemblance to the real person, and I did the least amount of drafts on it.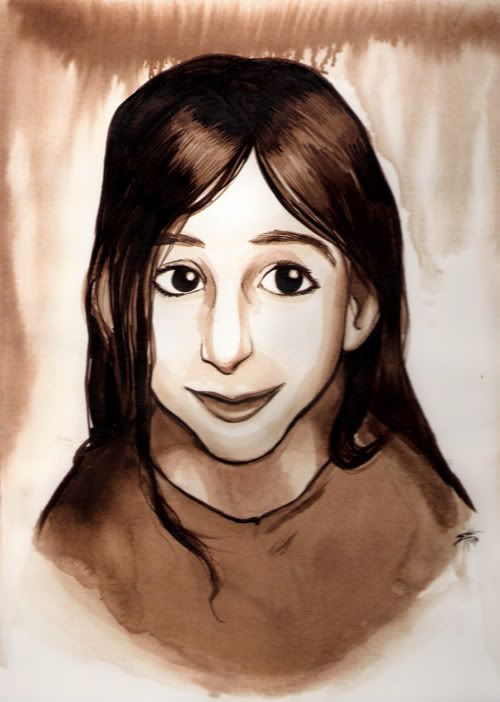 I was glad to be able to give gifts like these, though as the guy who made them I already see the flaws in them- one of the main reasons I wanted to make these was because my family had some older portraits I had done when I was about 20 or so up on the wall, and they were hideous. This will at least hold me over for a little while.
-eef